Majeedhiyya School Military Band
On 1st July 1967, the first bandmaster of Majeedhiyya School, Lieutenant Semidone, began music theory classes for 27 students. It is this class that gave birth to what we now enjoy as one of the finest brass bands in the Maldives
the Marching Band of Majeedhiyya Schoo One year later, on 27th February 1966, the first set of band instruments arrived in Majeedhiyya School. These instruments consist of Bugles, Fifes and Drums: The 1st School Band of Maldives was a "Fife and Drum" Band.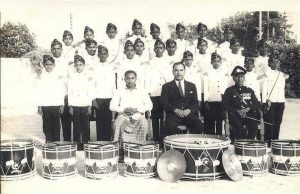 The first batch of the band in 1966 with Bandmaster Mr. A.A. Samidon, Headmaster Mr.Umar Zahir and Principal Mr. J.V. Hill. Bandsmen include Dr.Ahmed Razee and Ibrahim Shakeeb.
"No Razee, no flute. No Ralavan no Bugle" – Mr. A.A. Samidon
On November 11th 1966, the band proved that they are unbeatable and that they won't be beaten in the upcoming year. It was an event performed by the band for the celebration of the national day in the artificial beach. The band brought the crowd up to their feet with the mind blowing marches and the mesmerizing choreography.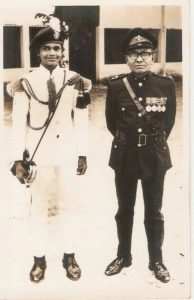 First Bandmaster, Lieutenant Semidon (Right) A fellow Bandsman, Afeef (Left)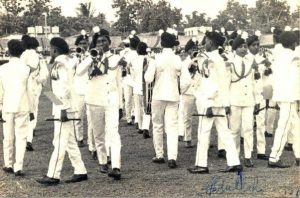 26th July 1971 – Marked the 6th Independence Day of Maldives at Henveyru Grounds. On this occasion, a parade was performed by the Fife & Drum Band of Majeediyya School.
Dr. Latheef (Former Education Minster) & Dr. Ahmed Raaze (Internal Physician) are notable bandsman who took part in.